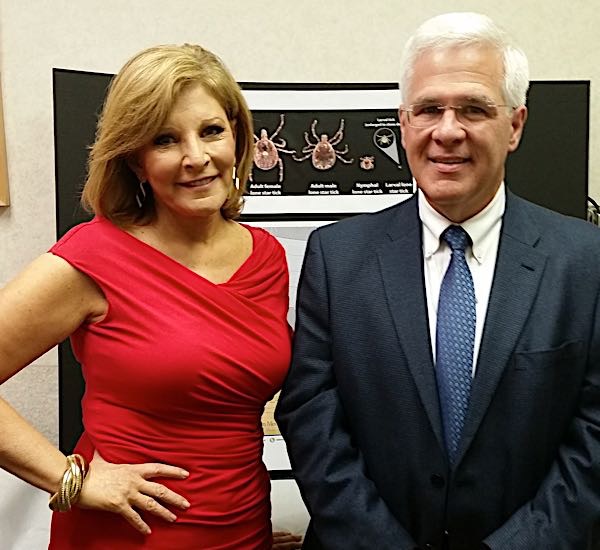 August 8, 2017
Red Meat Allergy and the Lone Star Tick in Metro Philly – Southern NJ
Philadelphia, PA – August 8, 2017 – "As the Lone Star tick population continues to grow in metropolitan Philadelphia and Southern New Jersey, so will the incidence of red meat allergy rise in our community. Red meat allergy also must be considered for our residents who have severe life-threatening reactions (anaphylaxis) with an unknown cause."  Dr. George Belecanech, Board-Certified Allergist at The Asthma Center
Update on Red Meat Allergy and the Lone Star Tick in Metro Philly and Southern NJ
With the last of summer vacations and spending more time outdoors, we are all more susceptible to tick bites. By now, most of us are familiar with Lyme disease from deer ticks. But did you know that another tick variety prevalent in our area, the Lone Star tick, can trigger red meat allergy?
This red meat allergy is also known as alpha-gal allergy.  Alpha-gal is a carbohydrate found in red meat including beef, pork, lamb and venison.  Since 2009, Lone Star tick bites have been linked to the development of delayed allergic symptoms (usually 3-6 hours) following the ingestion of red meat.  Individuals bitten by Lone Star ticks may develop allergy (IgE) antibodies to alpha-gal.  Upon ingesting mammalian meat containing alpha-gal (red meat), delayed allergic symptoms can develop.  
Interestingly, a typical allergic reaction to a food occurs in minutes, yet the red meat allergic reactions may take as long as three to six hours to set in. While the allergic reaction can be triggered by alpha-gal in red meat, it is also important to note that the alpha-gal reaction can be triggered by gelatins, cow's milk, and Cetuximab, which is a treatment of colon cancer.  However, the Alpha-gal carbohydrate is not found in poultry, such as chicken and turkey, or fish.
It is thought that individuals with blood types A or O are at increased risk of alpha-gal sensitization. However, the alpha-gal allergy has been seen among other blood types, as well. People of all blood types should exercise caution to avoid ticks and prevent this allergy from developing
Red meat allergy is generally considered to be uncommon in the United States, and was only recently recognized in 2009.  However, the increased population of Lone Star ticks in our region increases the threat of red meat allergy.  An essential part of any food allergy treatment program is avoidance, and triggers can be particularly difficult to identify.  This is particularly true with Lone Star tick bites and red meat allergy because the allergic reaction is often delayed, thereby "hiding" the true cause of the allergic reactions.
The Asthma Center Board-Certified Allergists have put together the following guides to help recognize the signs and symptoms of red meat allergy caused by Lone Star tick bites.
Lone Star Tick Bite Facts
The Lone Star female adult tick has a distinctive white dot. The Lone Star adult male, on the other hand, has markings similar to those of a "deer tick." 
Lone Star tick bites often cause an extremely itchy rash around the bite within 7 days.  Note: Tick bites related to Lyme Disease and other illness by contrast, may also develop a rash that feel warm to the touch but generally are not itchy.
Some individuals may be unaware that they have experienced a tick bite.
Lone Star tick bites do not usually cause Lyme Disease; however, Lone Star ticks feed on warm blooded mammals which may have Lyme Disease and other tick-borne illnesses. In rare cases, the Lone Star tick can become a "carrier" of these illnesses.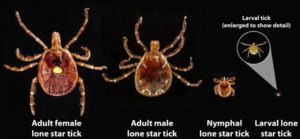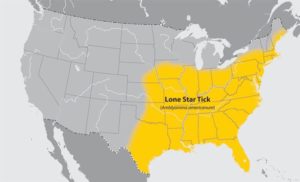 Lone Star Tick Bites and Food Allergy Symptoms
After a Lone Star tick bite, the following food allergy symptoms can occur with the ingestion of red meat (including beef, pork, lamb or venison):
Hives or skin rash
Nausea, stomach cramps, indigestion, vomiting, diarrhea
Stuffy/runny nose
Sneezing
Headaches
Asthma
Anaphylaxis (life-threatening allergic reaction)
Red Meat Allergy Diagnosis and Treatment
At The Asthma Center, our allergists and pediatric allergists help our patients manage their food allergies by first determining what foods cause symptoms.   Commercially available allergy skin tests for red meat (beef, pork, and lamb) are usually negative, but skin tests to fresh meat may be positive.  When a meat allergy is causing any of the above symptoms, and a Lone Star tick bite is suspected, a blood test can help diagnosis this condition.  Many cases of what has previously been diagnosed as "idiopathic anaphylaxis (where the cause is unknown) may actually be cases of red meat allergy.  The delayed reaction caused by red meat allergy (which can occur 3-6 hours after eating red meat) is often misleading since most allergic food reactions occur within one hour of ingestion of the culprit food.
Avoidance of foods that trigger symptoms is a key part of living with red meat food allergy.  The Asthma Center allergists pair these results and any other testing results which may apply to an individual's unique history and set of symptoms to identify specific triggers.  The Asthma Center allergists also help our patients find relief of symptoms with antihistamines and corticosteroids, and prepare for anaphylaxis by carrying epinephrine auto-injector to reverse severe reactions to any unforeseen exposure or accidental ingestion of a triggering food.
Tips for Tick Bite Avoidance
No tick bite is a "good" tick bite.  
With a greater than usual tick population predicted for our region, increases in Lyme Disease which is spread by the "deer tick" (black legged tick) are not the only concern.  It has been widely reported that a small percentage of deer ticks may also carry the Powassan virus. 
Avoid Tick bites:
Use repellent that contains 20 percent or more DEET, picaridin, or IR3535 on exposed skin for protection that lasts several hours
Walk in the center of trails and avoid wooded and grassy areas
Wear long sleeves, long pants and thick socks
Learn more about preventing tick bites from the Centers for Disease Control
If you are concerned about a tick bite or other rash, please see a medical professional.
The allergists, pediatric allergists, and asthma specialists at The Asthma Center treat patients in 9 convenient locations throughout the Delaware Valley including Philadelphia (Center City Philadelphia, Society Hill Philadelphia, Northeast Philadelphia), The Main Line – Montgomery County (Bala Cynwyd – Lower Merion PA), Bucks County (Langhorne PA), and South Jersey (Mt. Laurel NJ, Woodbury NJ, Hamilton NJ, Forked River NJ).
The health information contained in this article is meant for basic informational purposes only.  It is not intended to serve as medical advice, substitute for a doctor's appointment or to be used for diagnosing or treating a disease.
For interviews and tours of the Delaware Valley's only National Allergy Bureau (NAB) certified pollen, ragweed, and mold spore counting stations in Philadelphia, PA and Mt. Laurel, NJ, please email gwoodlyn@asthmacenter.com.