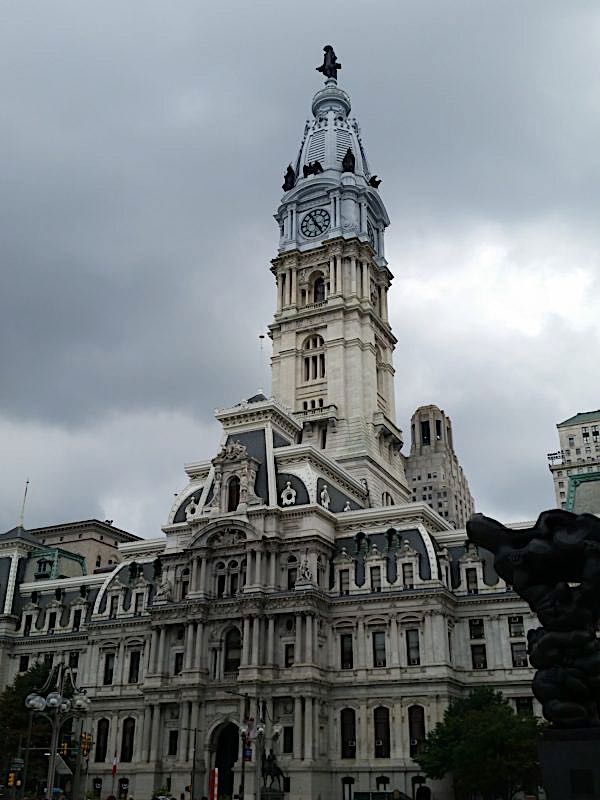 July 28, 2017
Thunderstorm Asthma – Allergies: More Pollen, More Mold, More Symptoms
Thunderstorm Asthma – Allergies
Over the past thirty years, numerous researchers have confirmed that "thunderstorm asthma – allergies" (increases in asthma and allergy symptoms following thunderstorms) are real.
The "dog days of summer," those hot and humid days in late July and August present the perfect conditions for unsettled weather which can "break" the humidity with rain and cooler temperatures.    Many individuals who have asthma and allergies expect these weather changes to also usher in a break from symptoms. The Asthma Center's board certified allergists and pediatric allergists also confirm that thunderstorms can have the opposite effect by triggering more allergic asthma and respiratory allergy symptoms.
What Is Thunderstorm Asthma – Allergies?
Most people think of a "thunderstorm" as any storm with rain, thunder and lightning.  Thunderstorms are very common, and according to the National Oceanic and Atmospheric Administration (NOAA), at any given moment, somewhere around the world, approximately 2,000 thunderstorms are in progress. While thunderstorms may seem simple, each event is a complicated interaction of air, water, and electricity.
Thunderstorm Asthma – Allergies occurs when thunderstorm activity triggers flares in asthma  (coughing, wheezing, shortness of breath or chest congestion) and/or allergies.
The connection between thunderstorms and increased asthma and allergy symptoms was first recognized in the 1980s.  Over the ensuing years, a number of researchers have confirmed this phenomenon including increased emergency room visits for asthma following thunderstorms.  In fact, deaths due to increased asthma after thunderstorm activity occurred in Melbourne, Australia (9 deaths in November 2016) and in Kuwait (5 deaths in December 2016.)
Most recently, findings published in the American Meteorological Society's Journal of Applied Meteorology and Climatology explored the complicated relationship of thunderstorm activity with increased pollen, thunderstorm asthma and respiratory allergy. 
Thunderstorms Bring More Pollen, More Mold Spores & More Symptoms
For more than two decades, The Asthma Center's official pollen, ragweed and mold spore counter, Dr. Donald Dvorin has observed first hand the increase of pollen, ragweed, and mold spore counts following thunderstorm activity in metropolitan Philadelphia and Southern New Jersey.  As Dr. Dvorin has stated on many occasions,  weather conditions play an important and complex role in the volume of pollen, ragweed, and mold spores that fill the air each day.  Rain and falling temperatures can clear the air and can even disturb the pollen process.  Thunderstorms on the other hand, which are accompanied by lightning, winds and heavy rains–affect the process differently.  First, winds lift, carry, and toss pollen about, sometimes violently.  Lightning indicates a change in the movement of atmospheric electrical charges which may cause further anomalies in pollen release; when combined with winds, this can result in more pollen in the air with all of it traveling further.  
The most recent published findings suggest that pollen molecules may actually absorb water in the atmosphere before "exploding" and releasing pollen particles with great force and density.   
Molds thrive with increased moisture.  It is no surprise, then, that there is a connection between increased mold allergy symptoms and storms, which include thunderstorms, rain, tropical storms, and hurricanes.  
In fact, in April, 2017, a study in the Journal of Environmental and Public Health reported findings from two researchers on the connections between Hurricane Irene in 2011 and Hurricane Sandy in 2012 and positive reactions to allergy skin testing to molds.  The researchers reviewed the medical records of several hundred individuals living in New Jersey, and found that post-hurricane allergy skin tests revealed an increased allergic reaction to molds.
Three Ways To Reduce Thunderstorm Asthma – Allergies
Minimize Time Outdoors Before and After Thunderstorms
While thunderstorms can "pop up" at any time without warning, cloud formations, darkening sky, lightning, and abrupt changes in wind gusts are all clues that a thunderstorm may be forming.  The rhyme "Red sky at night, sailors' delight; Red sky in morning, sailors' warning" is another clue.  As seen in this photo (courtesy The Asthma Center's friend, Bill Fluehr) which captures the morning sun along the Delaware River, a "red sky at morning" is caused when the sun hits clouds in our region.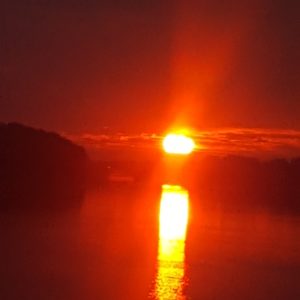 2.  Monitor Pollen, Ragweed, and Mold Spore Counts
Knowing the pollen, ragweed, and mold spore counts before and after thunderstorms can be invaluable in planning daily activities and reducing the impact of exposure to your specific allergy triggers.  In the Delaware Valley, The Asthma Center's official pollen, ragweed, and mold spore counts are available via free subscription email, on our website, and social media.
3.  Activate your Asthma & Allergy Action Plan
A personalized Asthma & Allergy Action Plan will include both a routine, day-to-day plan for individuals with asthma and allergies as well as a written plan to follow in the case an asthma attack or flare up in allergy symptoms.  The Asthma Center allergists work with each patient to customize each individual's Asthma & Allergy Action plan so that patients know when to adjust medications – providing more relief when conditions are bad (after thunderstorm activity when pollen, ragweed, and mold spores may dramatically increase) and less medications when environmental triggers are absent.
Special Note for Individuals with Thunderstorm Asthma: Carry Your Rescue Inhaler At All Times
A Board-Certified Allergist Can Help with Thunderstorm Asthma – Allergies
At The Asthma Center, our allergists and pediatric allergists help our patients manage increases in symptoms after thunderstorms by first determining what causes an individuals asthma and allergy symptoms.  For example, we identify which local pollen, ragweed, and molds trigger allergy and asthma symptoms by using minimally invasive in-house diagnostics, like allergy skin testing including needle free allergy skin testing and breathing tests. Pairing these results with local knowledge of allergy triggers like pollen, ragweed and mold, our allergists develop personalized plans that treat not only the symptoms but also the cause of allergies. And because allergy  and asthma symptoms often spike after thunderstorms, we know exactly when to adjust medications – providing more relief when conditions are bad and less medication every time else. 
The allergists, pediatric allergists, and asthma specialists at The Asthma Center treat patients in 9 convenient locations throughout the Delaware Valley including Philadelphia (Center City Philadelphia, Society Hill Philadelphia, Northeast Philadelphia), The Main Line – Montgomery County (Bala Cynwyd – Lower Merion PA), Bucks County (Langhorne PA), and South Jersey (Mt. Laurel NJ, Woodbury NJ, Hamilton NJ, Forked River NJ).
The health information contained in this article is meant for basic informational purposes only.  It is not intended to serve as medical advice, substitute for a doctor's appointment or to be used for diagnosing or treating a disease.
For interviews and tours of the Delaware Valley's only National Allergy Bureau (NAB) certified pollen, ragweed, and mold spore counting stations in Philadelphia, PA and Mt. Laurel, NJ, please email gwoodlyn@asthmacenter.com