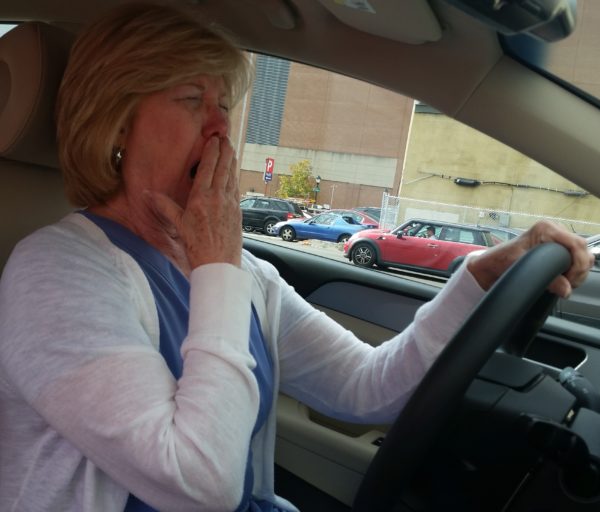 August 15, 2017
Can Allergies Make You Drowsy Enough to Impair Driving?
The Asthma Center's Board Certified Allergists Review New Research On How Allergies Impair Driving: Study Published in the August issue of the American Journal of Allergy and Clinical Immunology.
New Study: Allergies Increase the Risk of Driving Accidents
Drowsiness and lack of awareness can affect all drivers with studies revealing that 1 in 5 accidents is related to difficulty staying awake.  Allergies can, and often do, impact an individual's quality of life including problems with sleeping, daytime drowsiness, and trouble focusing.  A new study published this August looked at how allergies impair driving and impact the risk of driving accidents.  
Allergies Impair Driving
Nearly two-thirds (63.8%) of the patients reported that their allergies affected their driving.
Researchers surveyed more than 3800 people across the United States between the ages of 25 and 53 years old.  Of the 63.8% who reported that allergy symptoms had an impact on their driving skills:
Almost 20% reported that allergies had affected their ability to respond to a specific situation (that they did not have the correct reflex)
Just under 15% reported allergies had contributed to an unusual driving error
9.5% reported falling asleep while driving (for a fraction of a second)
17.5% reported needing to pull off to the side of a road
A little more than 15% reported occasions they felt unable to drive
Less than 1% stated they were in a car accident due to allergies
Patients with the most severe allergic symptoms, who were most likely to be taking antihistamines by mouth and as eye drops experienced the most drowsiness and reported the most lack of focus and awareness while driving.
The Asthma Center's board certified allergists, with more than four decades of experience with treating individuals for allergies, concur with the findings of this new study:
Allergies increase the risk of driving accidents independent of medication
Patients should be informed regarding this risk, and the need for following their personal Allergy Action Plan to minimize the risk.  Patients should review their Allergy Action Plan with their board certified allergist every three months so that adjustments can be made as necessary.
Further research should be pursued to more clearly define the relationship between allergies, drowsiness, and lack of focus and driving accidents 
J Allergy Clin Immunol August 2017, 140 (2): 614-616
If one is driving, or planning in the short term to drive, avoiding sedating medications like over-the-counter Benadryl, chlorpheniramine, and others is essential.
Allergy injections are a non-sedating option and the most effective way to treat allergies and avoid the use of sedating medications.
A Board-Certified Allergist Can Help with Allergies
Board-certified allergists and pediatric allergists help patients minimize allergies, asthma, and sinus problems.  Using minimally invasive in-house diagnostics, like allergy skin testing, needle-free allergy skin testing, and breathing tests, and knowledge of  local allergy triggers like pollen, ragweed and mold, our allergists develop personalized plans that treat not only the symptoms but also the cause of allergies. Several treatment options, including allergy immunotherapy, are effective and non-drowsy solutions.
The allergists, pediatric allergists, and asthma specialists at The Asthma Center treat patients in 9 convenient locations throughout the Delaware Valley including Philadelphia (Center City Philadelphia, Society Hill Philadelphia, Northeast Philadelphia), The Main Line – Montgomery County (Bala Cynwyd – Lower Merion), Bucks County (Langhorne), and South Jersey (Mt. Laurel, Woodbury, Princeton – Hamilton, Forked River).
The health information contained in this article is meant for basic informational purposes only.  It is not intended to serve as medical advice, substitute for a doctor's appointment or to be used for diagnosing or treating a disease.
For interviews and tours of the Delaware Valley's only National Allergy Bureau (NAB) certified pollen, ragweed, and mold spore counting stations in Philadelphia, PA and Mt. Laurel, NJ, please email gwoodlyn@asthmacenter.com