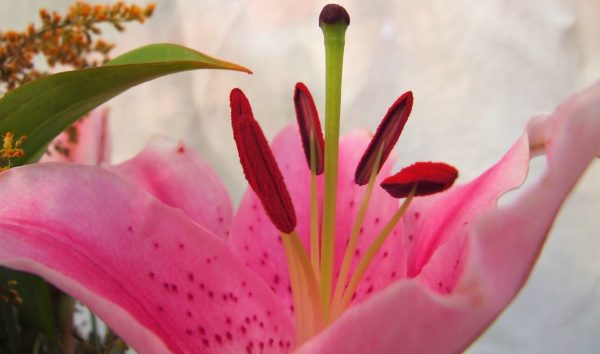 May 11, 2017
allergy-friendly flowers
,
mothers day
Mother's Day Allergy-Friendly Flowers Guide
Philadelphia, PA – May 11, 2017 – Rain or shine, Mother's Day is around the corner. Flowers are synonymous with both Mother's Day and allergies.  Read The Asthma Center's board-certified allergists' Mother's Day Allergy-Friendly Flowers Guide to keep your celebration "sneeze-free." Happy Mother's Day!
Allergy-Friendly Flowers

Individuals who have respiratory allergies may experience difficulty around flowers and other plants in indoor as well as outdoor garden environments. Fortunately, there are many flowers, shrubs, trees, and grasses that produce very little or no pollen and can be used in both indoor and/or outdoor environments. Fun Fact:  Only male plant species produce the pollen that people react to, so that if you are able to purchase female plants you can be sure that they do not produce pollen.
For a less symptomatic weekend with Mom, try one of these allergy-friendly flowers more suited for allergy sufferers:
Begonia
Clematis
Columbine
Crocus
Daffodil
Geranium
Hydrangea
Iris
Lily
Periwinkle
Rose
Tulip
Zinnia
Allergy Tips for Enjoying Flowers & Bouquets
The pollen from flowers used in arrangements is heavier than tree, grass and weed pollen. This means that usually it is less of a trigger for allergy and asthma symptoms, but it may still cause problems. Here is a set of allergy tips to keep in mind when giving or receiving flowers as a gift: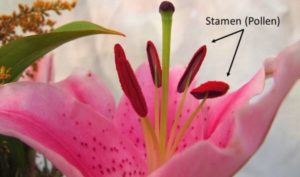 Before you bring any ornamental flowers indoors, remove as much pollen as possible by removing the stamen. Wipe stems, leaves, and petals as needed.
Resist the temptation of placing your nose directly in a bouquet of flowers or touching the flowers, since direct contact on the hands, other parts of the skin, eyes and nose may trigger allergy symptoms.
The fragrance from some plants may also have a very significant irritant effect if you have respiratory allergies and/or asthma. Try to avoid particularly fragrant flowers.
Reduce symptoms by avoiding the "worst offenders" such as chamomile, chrysanthemums, daisies, goldenrod, and sunflowers. Choose allergy-friendly flowers instead (See List Above.)
Dr. Goldstein on Allergy-Friendly Flowers
Our very-own allergist Dr. Marc Goldstein discusses allergy-friendly flowers and bouquets.
Board-Certified Allergists, Pediatric Allergists & Asthma Specialists
At The Asthma Center, our allergists and pediatric allergists help our patients manage their allergies by determining what local spring allergens cause symptoms.  For example, with spring allergies, we identify which local trees, grasses, and flowers trigger allergy symptoms by using minimally invasive in-house diagnostics, like allergy skin testing. Pairing these results with local knowledge of allergy triggers like pollen, ragweed and mold, our allergists develop personalized plans that treat not only the symptoms but also the cause of allergies. And because allergy symptoms often spike with pollen, we know exactly when to adjust allergy medication – providing more relief when conditions are bad and less medication every time else. 
Our allergists, pediatric allergists, and asthma specialists treat patients in 9 convenient locations throughout the Delaware Valley including Philadelphia (Center City Philadelphia, Society Hill Philadelphia, Northeast Philadelphia), The Main Line – Montgomery County (Bala Cynwyd – Lower Merion PA), Bucks County (Langhorne PA), and South Jersey (Mt. Laurel NJ, Woodbury NJ, Hamilton NJ, Forked River NJ).
Ask about our Special Spring Saturday Hours for New Patients (available in selected locations)!
The health information contained in this article is meant for basic informational purposes only.  It is not intended to serve as medical advice, substitute for a doctor's appointment or to be used for diagnosing or treating a disease. For interviews and tours of the Delaware Valley's only National Allergy Bureau (NAB) certified pollen, ragweed, and mold spore counting stations in Philadelphia, PA and Mt. Laurel, NJ, please email gwoodlyn@asthmacenter.com.