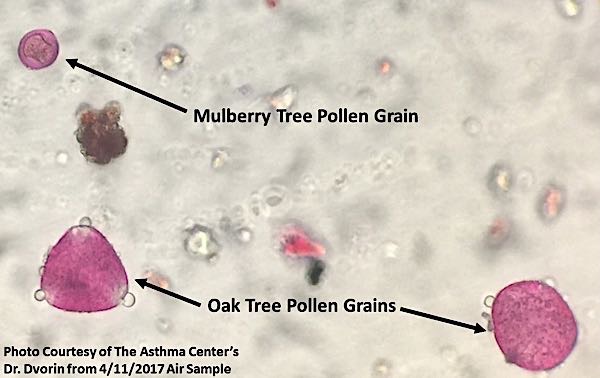 April 11, 2017
Extreme Surge: Early Oak & Pine Tree Pollen
Philadelphia, PA – April 11, 2017 – "The nearly extreme level of tree pollen today—more than a seven-fold surge — produced surprises including early increases of Oak & Pine tree pollen." – Dr. Donald Dvorin, Board Certified Allergist at The Asthma Center, and the only official National Allergy Bureau (NAB) certified pollen, ragweed and mold spore counter for the Delaware Valley. The picture above was taken right from Dr. Dvorin microscope this morning, and features Oak and Mulberry tree pollen.
The Asthma Center's phones are busy today with reports of allergy misery: nasal congestion and blockage, sneezing, itchy eyes, and coughing!
What's In the Air?
Tree Pollen: Nearly Extreme. At nearly 950 pollen grains per 24 hours, tree pollen today is nearly extreme. (See How We Count Pollen)
Predominant: Oak & Pine Tree Pollen
Many of the popular "pollen forecasts" are reporting Juniper & Maple as the major tree pollen which is misleading even though these trees are considered traditional "early tree pollinators."
As the only official National Allergy Bureau (NAB) certified pollen, ragweed and mold spore counter for Philadelphia, PA and South Jersey, Dr. Donald Dvorin found that more than half quarters of today's air sample is comprised of Oak tree pollen and roughly another one quarter of today's sample is Pine tree pollen.
Oak is the predominant hardwood tree species in the Philadelphia, PA and South Jersey area, and a single medium to large Oak tree can produce several million pollen grains. When you consider how tiny each pollen grain is (2438 micrometers), that's a lot of tree pollen.
Dr. Dvorin reviewed his historical data, this very high level of Oak tree pollen is occurring approximately one week to 10 days earlier than last spring (2016) while today's very high level of Pine tree pollen is several weeks early.
Also of note, Dr. Dvorin observed high levels of the following tree pollen: Walnut, Birch, Mulberry, Juniper, and Sycamore and low levels of Maple, Willow, Ash, Sweetgum, Hickory/Pecan, and Hackberry tree pollen.  Per Dr. Dvorin, the sighting of Hackberry tree pollen is very rare.
Grass Pollen: Low
Ragweed Pollen: Not Seen
Other Weeds: Low
Plantain weed pollen debuts today at low levels.  Dr.  Dvorin reviewed his historical data, and this low level of plantain weed pollen is more than two weeks earlier than last spring (2016).
Mold Spores: High
What to do about Allergies?
 "Follow our pollen counts and pollen blogs," says Dr. Dvorin. "I'll keep you as informed as I can about 'what's actually in the air", and be proactive about treatment—if you're having a bad time now, find out exactly what you're allergic to, and keep history from repeating itself!"
No two allergy sufferers are alike, so over-the-counter medication may not work well for everyone's symptoms. Instead, our allergists and pediatric allergists develop personalized treatment plans to help our patients feel better. We identify specific levels of allergic sensitivity using minimally invasive in-house diagnostics, like allergy skin testing. Pairing these results with local knowledge of allergy triggers like pollen, ragweed and mold, our allergists develop personalized plans that treat not only the symptoms but also the cause of allergies. And because allergy symptoms often spike with pollen, we know exactly when to adjust allergy medication – providing more relief when conditions are bad and less medication every time else.
Our allergists, pediatric allergists, and asthma specialists treat patients in 9 convenient locations throughout the Delaware Valley including Philadelphia (Center City Philadelphia, Society Hill Philadelphia, Northeast Philadelphia), The Main Line – Montgomery County (Bala Cynwyd – Lower Merion PA), Bucks County (Langhorne PA), and South Jersey (Mt. Laurel NJ, Woodbury NJ, Hamilton NJ, Forked River NJ).
Ask about our Special Spring Saturday Hours for New Patients (available in selected locations)!
Did You Know? Pollen, Ragweed & Mold Spore Counts Direct to Your Inbox!
The Asthma Center's daily Pollen, Ragweed and Mold Spore Counts are available by email! With counting stations in Philadelphia, PA and Mt. Laurel, NJ, we are Delaware Valley's only official pollen source certified by the National Allergy Bureau. Subscribe to receive our daily counts by email and check out some of our other blog posts to learn more about what is in the air, how it can affect you, and what you can do about it.
The health information contained in this article is meant for basic informational purposes only.  It is not intended to serve as medical advice, substitute for a doctor's appointment or to be used for diagnosing or treating a disease.
For interviews and tours of the Delaware Valley's only National Allergy Bureau (NAB) certified pollen, ragweed, and mold spore counting stations in Philadelphia, PA and Mt. Laurel, NJ, please email gwoodlyn@asthmacenter.com.