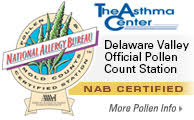 The staff at The Asthma Center are specialists in Asthma and Allergy treatment
Board Certified Specialists in Allergy, Asthma, Immunology and Sinusitis
The allergists (allergy doctors) and asthma doctors at The Asthma Center strive to provide the best allergy, asthma, immunology, and sinus care to patients using the latest diagnostic tools and treatment strategies. Our allergists are focused on fostering strong communication with patients and improving quality of life. We have decades of medical experience treating patients, and our allergists are recognized as Top Doctors and Super Doctors.  Taking care of you is our top priority!
Locations
Our asthma and allergy doctors treat both children and adults in 9 convenient locations throughout Delaware Valley including Philadelphia PA (Center City, Society Hill, Northeast), The Main Line – Montgomery County (Bala Cynwyd – Lower Merion PA), Bucks County (Langhorne PA), and South Jersey (Mt. Laurel NJ, Woodbury NJ, Hamilton NJ, Forked River NJ).
Manufacturer Asthma & Allergy Drug Discounts & Coupons
We put together a comprehensive listing of drug coupons for medications that our allergists often recommend for patients. In one place, all the current web links to the latest offers, ways to save on the most commonly recommended allergy and asthma medications! Coupons for some of the most popular drugs, including Advair, Claritin, Dymista, EpiPen, Flonase, Symbicort, and Zyrtec. Save here!
Flu Shots – Don't be part of "The 20%"!
The influenza vaccine (flu shot) is an immunization which helps the body avoid or minimize the effects of infection with the influenza virus ("the flu"). It protects against infection with the most common strains of the influenza virus which are circulating throughout the world that particular year. Learn More…