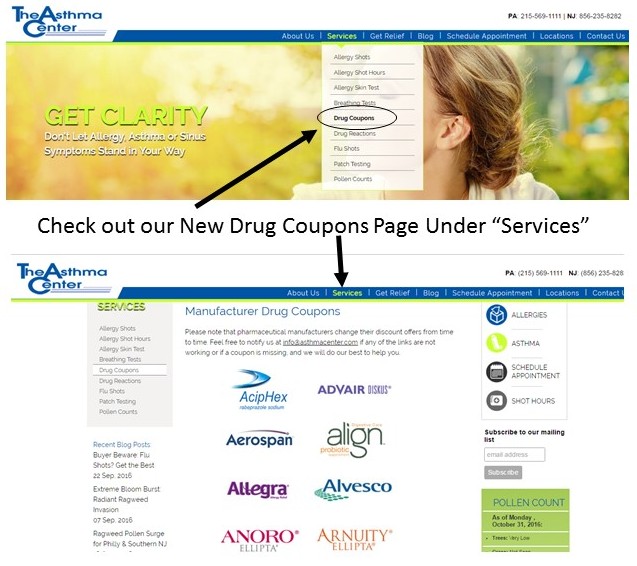 November 1, 2016
A-Z Drug Discounts, Coupons & Savings Programs
Media Inquiries: Please email gwoodlyn@asthmacenter.com
The health information contained in this article is meant for basic informational purposes only. It is not intended to serve as medical advice, substitute for a doctor's appointment or to be used for diagnosing or treating a disease.
According to a recent article from Kaiser Health News, issues related to drug prices and out-of-pocket costs rank as the top healthcare concern for Americans.
Many pharmaceutical companies offer discounts, coupons, and "savings" programs. However, these offers can be challenging to find, change frequently, and be difficult to manage when multiple medications are part of one's Allergy and/or Asthma Action Plan.
The Asthma Center board certified Allergists and staff have found a way to help, and we are excited to announce a new feature on our website, our Drug Coupons page!
The Asthma Center Allergists and staff have worked to compile a comprehensive list of links to discount offers, coupons, and savings programs for more than 35 of the most commonly recommended allergy and asthma medications including, Advair, Dymista, EpiPen, Symbicort and more.  We will continue to expand our list, which currently includes both prescription and over-the-counter (OTC) medications.
• Drug Coupons: "A Resource You Can Count On"
At The Asthma Center, taking care of you is our top priority.  With our Drug Coupons page, The Asthma Center brings you all the links you need, in one place, to save money on the medications which are crucial elements of your Allergy and Asthma Action Plan.
Just as you count on The Asthma Center Allergists and staff to provide the best allergy, asthma, immunology & sinus care, you can count on current, accurate, web links to all of the latest offers. Feel free to notify us at info@asthmacenter.com if you find any of the links are out of date or if a coupon is missing.
Now, and over the coming months, is the time to get your flu shot.
Flu Shots are recommended for everyone 6 months and older and are available at The Asthma Center because flu shots are one of the most important steps you can take to prevent getting the "flu."
Don't wait! Schedule your "quadrivalent" flu shot today in one of our 9 Locations throughout the Delaware Valley including Pennsylvania (Center City Philadelphia, Society Hill Philadelphia, Northeast Philadelphia, Bala Cynwyd, and Langhorne) and Southern New Jersey (Mount Laurel, Woodbury, Hamilton, and Forked River.)
The best way to fight your allergies & asthma is to visit a board certified allergist, learn what your allergies are, create a treatment plan, and adjust as needed. No two allergy & asthma sufferers are alike, so don't rely on over the counter medications when you could be targeting your symptoms with the help of our allergy experts! At The Asthma Center, our goal is to personalize your treatment to help you find relief. One way we accomplish this is by identifying your allergies and specific levels of allergic sensitivity through allergy skin testing to help you plan your treatment. By following the local pollen counts, we are able to customize allergy regimens that prevent symptoms caused by taking too little or too much allergy medication.